September Summary: The long awaited V-Log gets leaked for free, angering many Panasonic GH4 users who paid $100… all the while Sony and Olympus have announced major firmware updates for FREE. Also, a new patent and 3rd party lenses for Micro Four Thirds. 
Rokinon announced two new lenses today, a 21mm f1.4 and 50mm f1.2. The former being priced right along the Panasonic-Leica 25mm f1.4 at $499 and the ladder is a bit more attractive at $549. The 50mm f1.2 could potentially be a nice lens, but it really depends how sharp it is. Rokinon/Samyang have always been a budget brand – and thus have always paled in sharpness to their higher-end competitors. And the lenses are manual focus, not exactly something I like with the advancements in AF technology… but filmmakers might love it. Another thing to note is that these lenses were designed for APS-C (available for Sony E, Canon EF-M, and Fuji X Mount) thus the lenses are bigger than then they could be.
If you're in the need for speed, Mitakon also announced an ultrafast lens – a 25mm f0.95 for $399. I've talked about their 42.5mm f1.2 before, and honestly I just wasn't impressed with the samples. I'm sure they'll find a niche at that price range, but there are much better alternatives on the marketplace.
V-Log Drama and Olympus E-M5 II and E-M1 Firmware Update
Sony and Olympus putting out major FW updates for free, Panasonic should have done the same. This whole V-Log situation has been a debacle.

— m43 Cameras (@m43Cameras) September 17, 2015
I get it. CameraStoreTV called the GH4 "a completely new camera" with V-Log. The $100 can easily be justified. But when a backdoor allows many users to get V-Log for free right after many have paid – it's a slap in the face to many Panasonic GH4 users who plunked down $100 on day one. Especially when Olympus and Sony have announced relatively major firmware updates for free recently.  The backdoor has been patched (on the Panasonic website, but it's still out there), but many have been able to get it for free (they just can't update to the patched 2.4). For more, Erik Naso has a good breakdown on the V-Log saga.
Olympus Firmware Update for E-M5 II and E-M1
A major firmware update that includes focus stacking (E-M1), focus bracketing, a flat video mode for the E-M5 II and 4k… but it's a timelapse mode just like the one featured on the E-M10 II. Read the Olympus press release for full details, and checkout this chart for a summary: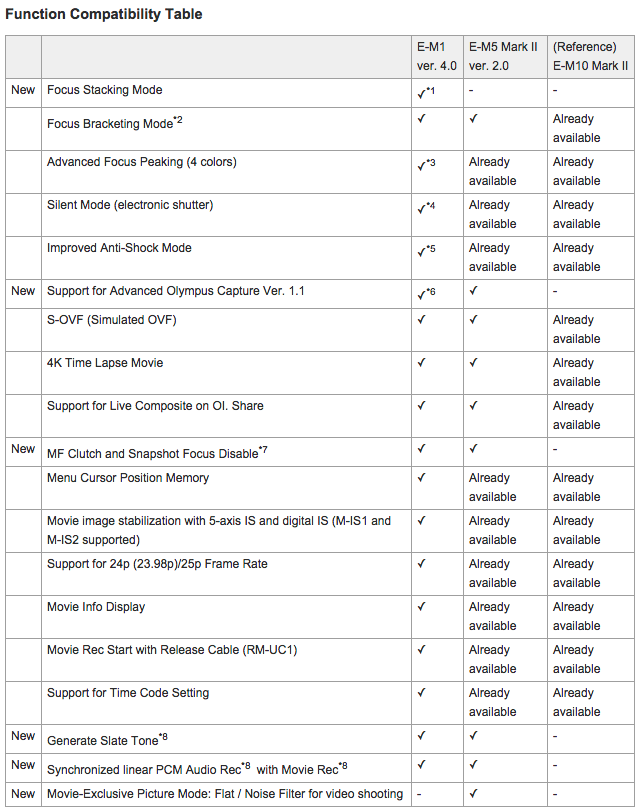 Panasonic Looking to Go Smaller
Panasonic was granted a patent for the "miniaturization of a lens barrel" used for an "interchangeable lens or the like." Thus it's clear than Panasonic is trying to make lenses smaller and smaller.
(Visited 76 times, 1 visits today)