When shopping for a new lens for your m43 camera, there's a lot to consider but I think we can all come to an agreement that we want a lens that shoots images that are sharp as a tack. Today, we'll be using metrics from the widely renowned DxOMark, most notably the PMpix sharpness score. We'll also be supplementing their results with my personal insights, as well as from DPReview and other photographers. But first, five things to keep in mind:
Aperture: Lenses are generally sharpest when stopped down/up 2 stops from the max, eg. for the Panasonic 20mm f1.7 stopped down that would be ~f3.5, which does correlate with DPReview's results.
Focal Length: For zoom lenses, focal length also plays a roll in sharpness. Like aperture, the extremes tend to be a little softer.
Megapixels: PMpix stands for "Perceptual Megapixel," essentially "say you're shooting with a 24-megapixel camera, but are using a lens rated at 18 P-MPix. This means that the resulting photos are equal in sharpness to an 18-megapixel camera shooting with a optically perfect lens."
Image Stabilization: Camera bodies like the OMD EM5 feature a 5-axis image stabilization, the Panasonic GX7 has a 2-axis image stabilization and of course a collection of Power OIS (Optical Image Stabilization) lenses. This allows you to shoot at a lower shutter speed and still get sharp photos.
Shutter Speed: When shooting handheld in low light your sensor requires a longer shutter speed to bring in more light, unfortunately this opens up the chance for camera shake. As a rule of thumb, your shutter speed should equal the focal length (eg. 60mm equivalent = 1/60s shutter speed). Personally, I've found it difficult to shoot handheld under 1/60s, I'd rather increase ISO. You could also rectify the shutter speed issue with the right tripod.
[box type="info"] Why DxOMark? In short, they test lens at a practical level. And they're one of the most trusted sources for photographers, and partners with DPReview (who partners with Amazon). There's a lot of different things to consider when buying a lens, but from a purely technical standpoint, DxOMark is an excellent resource and benchmark. [/box]
1. Panasonic Leica Nocticron 42.5mm F1.2 – Sharpness 13, Overall 28 (Tested on the EM5, EM1, EP5)
At $1600, this Leica branded lens is the most expensive lens on the Micro Four Thirds system and rightfully so. But whether it's worth $1600 is up to you. Doubled the price of the next lens on this list (Olympus 75mm f1.8), it does offer about 1 1/3 stops of more light and arguably a more workable focal length. If you're on a budget, I'd consider the very popular Olympus 45mm f1.8, here you can see it compared against the PL 42.5mm and the Oly 75mm. I still use an old Canon FD 50mm f1.4 and I love it (sample below), you can see more samples in our RoundFlash review last week.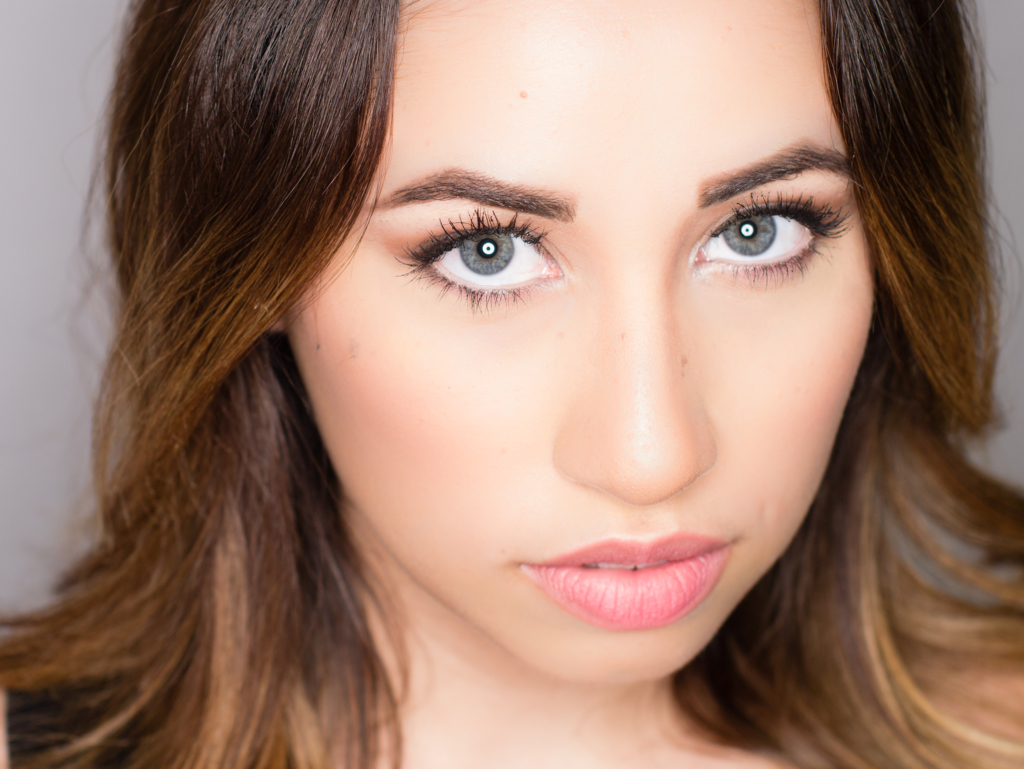 2. Olympus 75mm F1.8 – Sharpness 13, Overall 27 (EM5, EM1, EP5) –
Another popular portrait lens, many thought the release of the Leica Noticron would overshadow this lens as the best portrait lens. But at half the price and rated just as sharp, it's a fan favorite and a hard lens to overlook. Many people think that the Noticron produces more background blur because of the f1.2 aperture but even with the Oly 75mm shooting at f1.8, that isn't quite the case: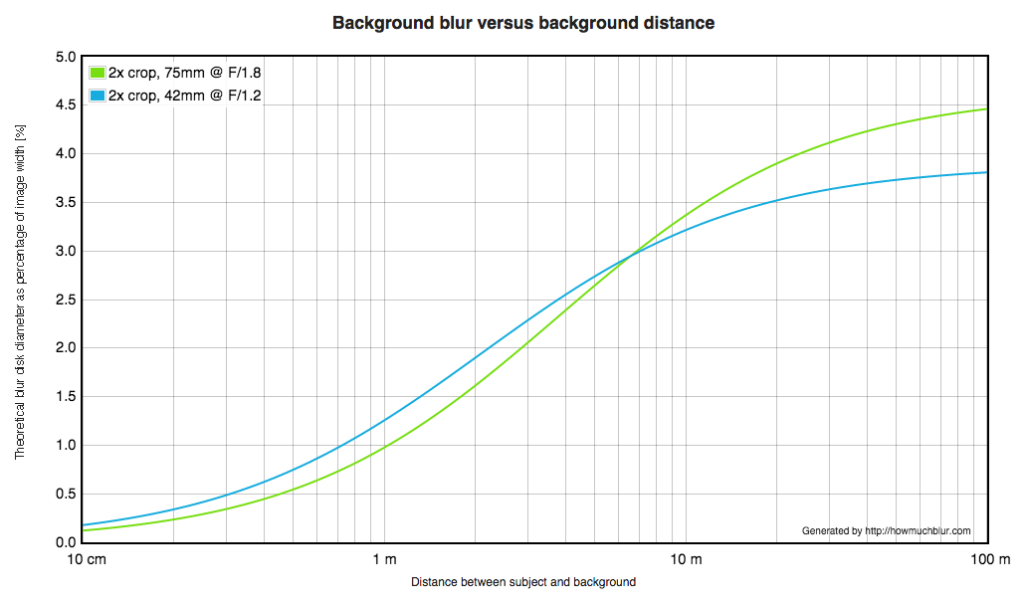 That's because background blur isn't a product of the aperture number, but physical aperture size and the distance between the subject and background. The illustration above shows that when shooting a head and shoulders portrait, with more than 7m+ separation from the subject and background, the Oly 75mm produces more background blur at f1.8 vs the Leica Noticron at f1.2, we talked more about this on the 5 most common misconceptions about Micro Four Thirds.
Update: January 24th, 2015 – I want to add the LensTip results for the top two lenses:

Basically, what you're seeing here is almost a dead even chart. If you really want to be fastidious, you could say the Pana-Leica has the advantage at f2.8, while the Olympus 75mm holds a little stronger at f5.6. Both are virtually tied at it's peak at f4 right around 82lpmm, though the Pana-Leica has better center-to-edge sharpness.
3. Panasonic 20mm F1.7 – Sharpness 12, Overall 22 (EM1, EP5)
The lens that started it all for me, packaged with the Panasonic GF1 it's still regarded as one of the best lenses for Micro Four Thirds. One of the smallest, yet sharpest lenses on the system. Shockingly, the 2nd version had narrowly lower test scores, but it does feature an improved metal body for under $400.
4. Panasonic Leica Summilux 15mm F1.7 – Sharpness 11, Overall 21 (EM5, EM1, EP5)
Another solid Panasonic Leica lens, it's perfect for those seeking a 30mm equiv. focal length and an external aperture ring. It's packaged in a good size as well and looks great on the GM1. It retails at $600 and can be found for around $500 on Amazon.
5. Panasonic Leica Summilux 25mm F1.4 – Sharpness 11, Overall 24 (EM1, EP5)
A recent addition to my camera bag, I only held out for so long because it shares a similar focal length to the already impressive 20mm f1.7. But the extra half stop of light and faster auto focus make this a must own prime lens in my opinion. I've seen the price fluctuate on this one, currently $597 on Amazon, I've seen it at $500, and they do have a few pre-owned copies for a little over $400.
6. Olympus 60mm F2.8 Macro – Sharpness 11, Overall 19 (EM1, EP5)
I'm not much of a macro shooter so I'll defer to a review by Steve Huff:
If you like to shoot Macro or get in close I can not imagine ANYONE being disappointed in this lens. It is built well, feels solid, has nice auto focus performance, is 100% silent, is sharp and even the manual focus is smooth, silky and easy to use. There is some minimal CA in certain extreme situations (high contrast with full light behind subject such as tree branch can create some purple funk) but overall this lens is well corrected without any issues or problems. It is another home run hit for Olympus and one that is hard to make any kind of long review on because it is just so good and will most likely even become a micro 4/3 legend.
7. Sigma 60mm F2.8 – Sharpness 11, Overall 21 (EP5, EM1)
At only $209, this lens is a surprising addition to this list with reviewers stating that it's sharp even shooting wide open.
8. Olympus 12mm f2.0 – Sharpness 10, Overall 21 (EP5, EM5)
The 24mm focal length was popular in the film days and the long awaited Olympus 12mm f2 lives up to the hype. Watch this review from DigitalRev TV for more info:
9. Panasonic X 35-100mm F2.8 w/ POWER O.I.S. – Sharpness 10, Overall 19 (EM1, EP5)
10. Panasonic X 12-35mm F2.8  w/ POWER O.I.S. – Sharpness 10, Overall 19 (EM1, EP5)
And finally the Panasonic X series, although both are a little over $1000 (12-35mm, 35-100mm), they're a fraction of the size and cost of Canon's L 24-70mm f2.8 ($2100) and L 70-200mm f2.8 ($1500).  Just look at the size difference when you compare the Panasonic X series lenses to their Canon counterparts: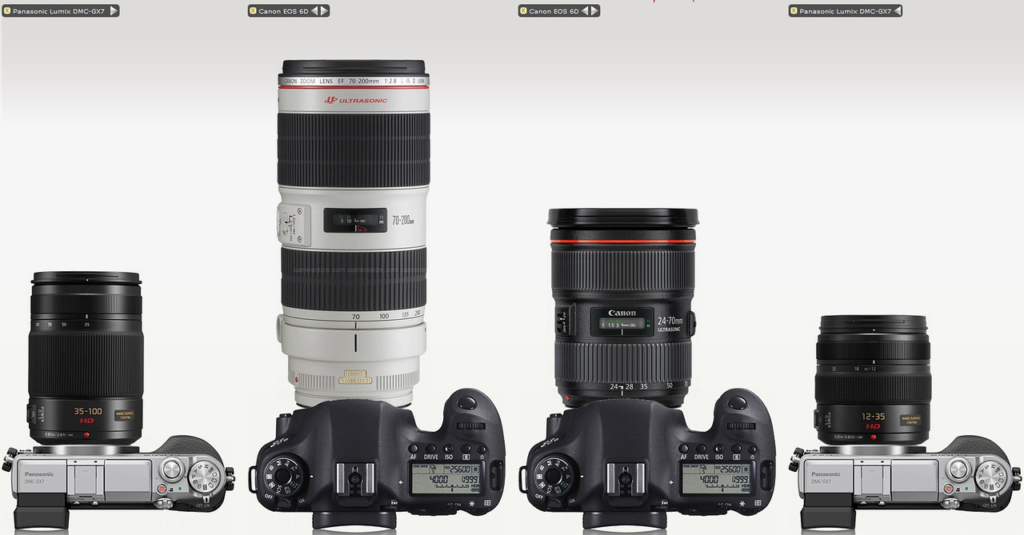 What do you think are the sharpest lenses on the Micro Four Thirds system? Let us know in the comments below!
(Visited 8,754 times, 1 visits today)