"Whaaaaat!? You use a mirrorless camera for client work?!" 
Gasp. The nerve, right? And if you dare even mention Micro Four Thirds, prepare for the onslaught that is about to come.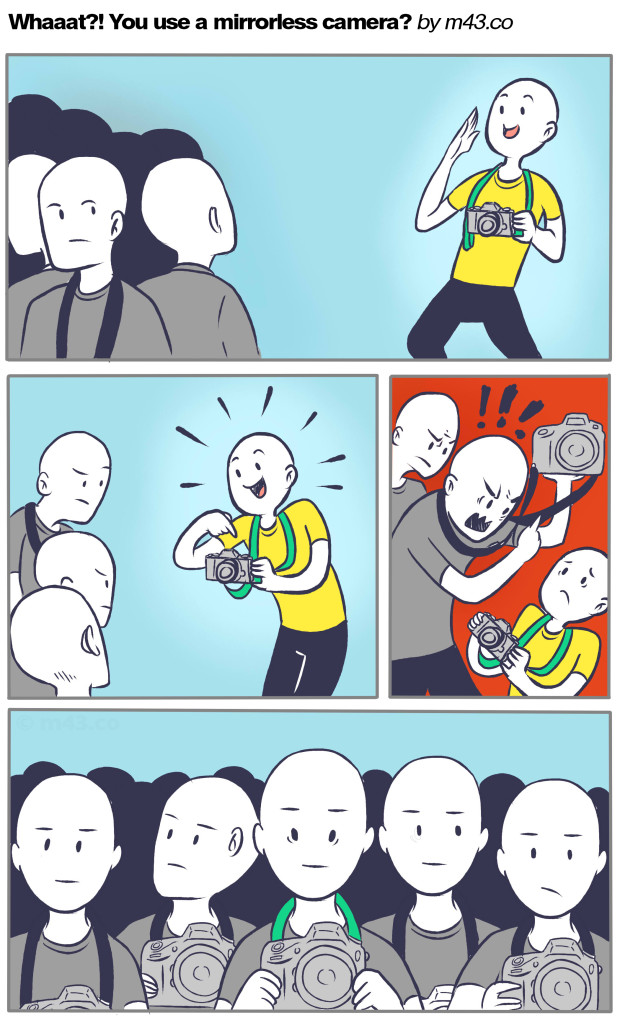 If you're a regular reader of this blog, you know I don't care what camera you use. But sometimes I gotta say something, otherwise we'll all be using the same camera.
I do wonder how many people end up switching to DSLR's because some popular industry professionals shun mirrorless cameras. I have a lot of respect for Scott Kelby, his best selling photography and Photoshop books were extremely useful for me when I was just getting started. But he's said a few controversial things about mirrorless cameras that I wanted to discuss:
Mirrorless hasn't caught on in a big way
This actually runs contrary to industry numbers, which show DSLR's down and mirrorless up over the last few years.
 I would not show up to a paid shoot with a mirrorless… If you were to show up with a mirrorless, I'd be like, 'is that for behind the scenes shots?' No, this is what I'm shooting your campaign with. 'Ok, you're not shooting my campaign with that, where's your real camera!'
This is in the context that mirrorless cameras are too small for professional work… even if they have a full frame sensor. It's just funny because the only real angle he could attack is the size, because the new Sony A7RII has many favorable reviews versus the new Canon 5DSR. But if it is indeed the size of the tool that matters and not the motion of the ocean, err, you could simply use a battery grip and that took away his only argument. But then again, you can add the battery grip to a Canon as well and we all know how much that improves a photograph.
Then he argues he doesn't know of a mirrorless camera that can tether to Lightroom. Actually, most of the high-end mirrorless cameras can tether to your computer. Heck, most of newer mirrorless cameras have Wi-Fi, a feature still lacking on the new Canon 5DSR.
Kelby does agree that the future likely lies with mirrorless, but it needs to be in a DSLR form factor. Hmmm… well there's the Panasonic GH4, Samsung NX1, Sony A99 and we could arguably add the Fuji XT1 and Olympus OM-D E-M1 in there as well. But of course, he must want it in a Canon DSLR form factor.
Kelby has a great deal of influence on the industry narrative. Search for a book on photography, Photoshop or Lightroom – and you'll see one of his best selling books. He runs one of, if not the biggest online training website for creatives, KelbyOne.com. There's a reason Canon sponsors him. Heck, if they paid me a million bucks I'd probably have to share his same views. Just being honest.
It's just ironic because Scott Kelby is the first person to turn me to the idea that your gear is just one piece of the puzzle. I remember he had this analogy in the original Digital Photography Book (the first book on photography I ever bought), that if Tiger Woods walked into Walmart and bought the cheapest set of golf clubs, he'd still crush any amateur using the best set of golf clubs. That's an analogy thats always stuck with me… but I guess it's one that he forgot.
(Visited 345 times, 1 visits today)