I'm ecstatic. I love this photography backpack. A backpack so nice, I feel the need to write a review for it. If you're a photographer, heck even if you just like to travel – you need this backpack. Well, unless you're a girl, then you probably need a gigantic ass piece of luggage to haul around. But if you're like me, and all you need to travel is a single pair of designer jeans and a t-shirt or two, camera gear and your MacBook air – then this is the backpack for you. Why is it the perfect backback? Short enough, it holds everything I just said. The long version:
Travel Backpack? You can't put clothes in there…
WRONG! You do know it's way more effective to roll clothes then fold them, right? It prevents wrinkles and saves more space. MacBook Air? There's a compartment for that. I was explicitly looking for a bag that can store my photo gear, as well as my laptop. A search for "Photography Laptop Backpack" on Amazon shows other products 3-4x the price. A search through the reviews shows that people have fit their 13″ MacBook air in the sleeve, obviously meaning it's also perfect for the 11″ MBA, tablets, iPads, etc. No luck for the ladys and gents with the MacBook pro. 
Photography backpack? Sho Nuff.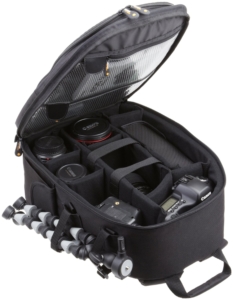 Not only is it the perfect backpack for photography – the backpack is actually made by Amazon. Who knew? Shoot, I buy from them 24/7, I don't mind rockin' their gear – especially as nice and practical as this.
I mean 1,213 people (and counting) can't be wrong. Here's what some of the reviewers had to say:
Love this bag. Used it as a carry on also. Very rugged, and it fullfilled my
every expectation. Even used to carry my tablet and all other small electronics
I use. A Great buy, worth the cost and built strong. I recommend it. – Roland Simon
It can even carry that big ass DSLR you wanna lug around:
I've been looking around for a camera bag that's not noticeably a camera bag and at the same time roomy and compact. In addition it had to be reasonably priced. This is very spacious, with several dividers for you to organize the inside accordingly. To give you a sense of how roomy it is, I can fit a 70-200 f2.8 attached to a 5d mkii with 2 prime lenses and 2 580ex ii flashes. Theres also small compartments for batteries, filters, gels, and compact wireless transmitters. Only thing I would improve with this bag is to add a bit more padding to the bag to make it sturdier but with the price right now, I can't complain. – TranChristopher
Someone even posted a video review on Amazon for the AmazonBasics Photography Backpack. I mean 1,500+ people and I could be wrong.. but it's doubtful :-). For more pictures and reviews check it out on Amazon. 
Special mention: If you're a female who wants to pack light, checkout the convertible/multi-way dresses by Iris Impressions.
(Visited 451 times, 1 visits today)