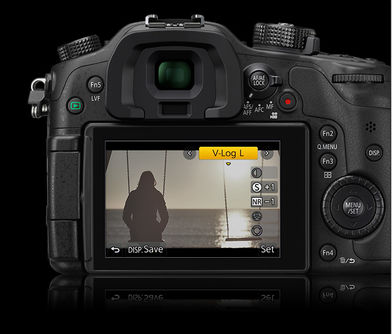 The V-Log L Firmware Update is now available for the GH4, some of the features are listed below and the official details are available at Panasonic:
LUMIX GH4 function enhancement for film production/professional videographers
Increases dynamic range from 10 stops to 12 stops
Makes color grading easier with improved compatibility between LUMIX GH4 and Panasonic Varicam
V-Log / V-Log L were developed to feature similar characteristic to Cineon
What about the V-Log for the G7 and GX8?
It isn't clear if it will extend to the G7 and GX8, on one hand Panasonic could keep the GH4 at the top of the lineup for video professionals. On the other hand Panasonic could likely drive more revenue selling the firmware update to G7 and GX8 owners. I personally feel it would be wise, otherwise it may be a little difficult to for the G7/GX8 to match up with the GH4 with V-Log.
The Panasonic GH4R, to be released on September 7th will come stock with V-Log
Panasonic GH4R will also feature unlimited recording for 4k at 24fps. Sadly, we'll have to wait for the upgraded sensor and Dual IS featured on the Panasonic GX8.
Panasonic GH4 V-Log and Firmware Update 2.3 Tutorial
Panasonic has posted a tutorial for the install here:
Learn more about V-Log
Chris and Jordan over the CameraStoreTV had an early version of V-Log and called it a "completely new camera." Watch their discussion about it here (starts at 14:00):
Understandably, many are upset that you have to pay $99 for upgrade. What are your thoughts? Let me know in the comments below!
(Visited 107 times, 1 visits today)