With the official announcement of the Olympus OMD EM5 Mk II, it adds another great option for high end Micro Four Thirds cameras. But if you're looking to buy or upgrade, as the Notorious BIG would say, "mo cameras, mo problems."
Released late in 2013, the flagship EM1 can be found for about $900… $200 less than the Mk II new. And the original EM5 which can be found at about half the price of the Mk II.
Personally, as an EM5 owner it's really an issue of when I upgrade. At the suggested retail of $1100, it runs a little higher than a used full frame Sony A7. Personally, since I don't shoot landscapes very often, I'll probably wait to upgrade until the price drops to around $700 or so for the body. Though if money were no object, I'd say the decision is pretty easy, I'd be all over the Mk II.
Let's start with the EM1
I'm an EM5 owner so I won't comment on the EM1 IQ, but it does use an upgraded CMOS sensor which should resolve better IQ. Some people say the difference is negligible, some say it's a worthy upgrade. The EM1 does offer more focus points vs the EM5 (81 vs 35) and it does offer WiFi, a feature I wish the original EM5 had, as that opens it up not only to easier transferring of images for sharing, but also remote shooting on iOS and Android.
For a more detailed breakdown, let's checkout the chart from Amazon: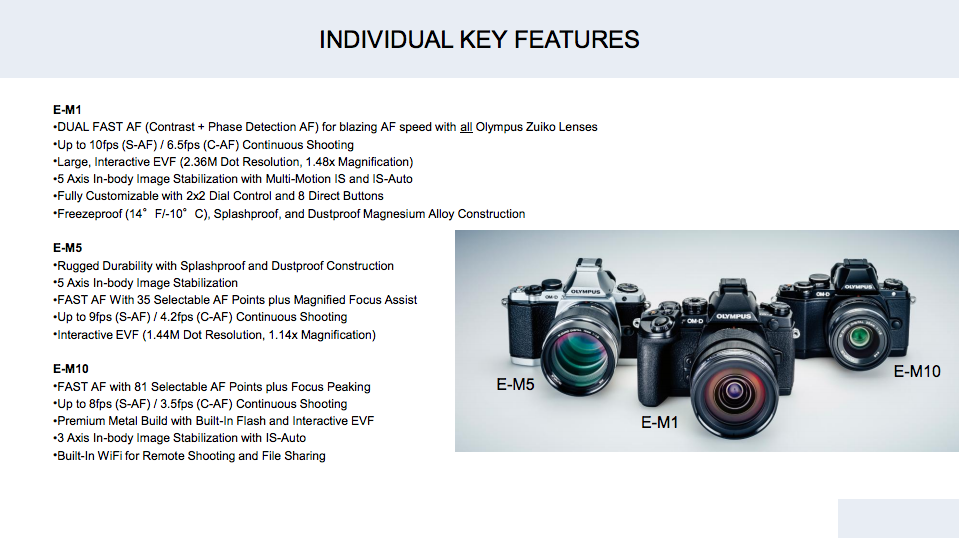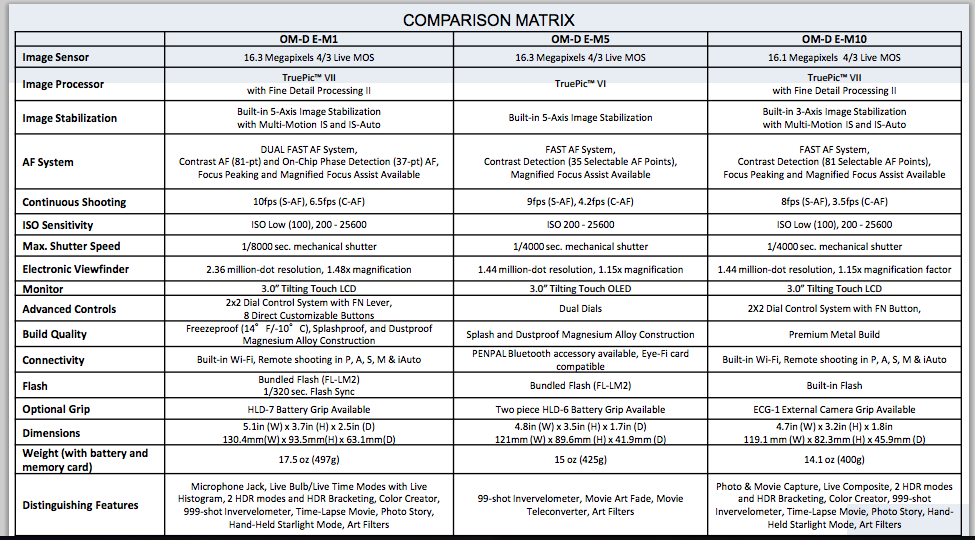 I'd also like to point out, that through a firmware update, the EM5 does also support ISO Low (100).
Now they haven't updated the chart to include the EM5 II, but they do have a comparison of the EM5II vs the EM1: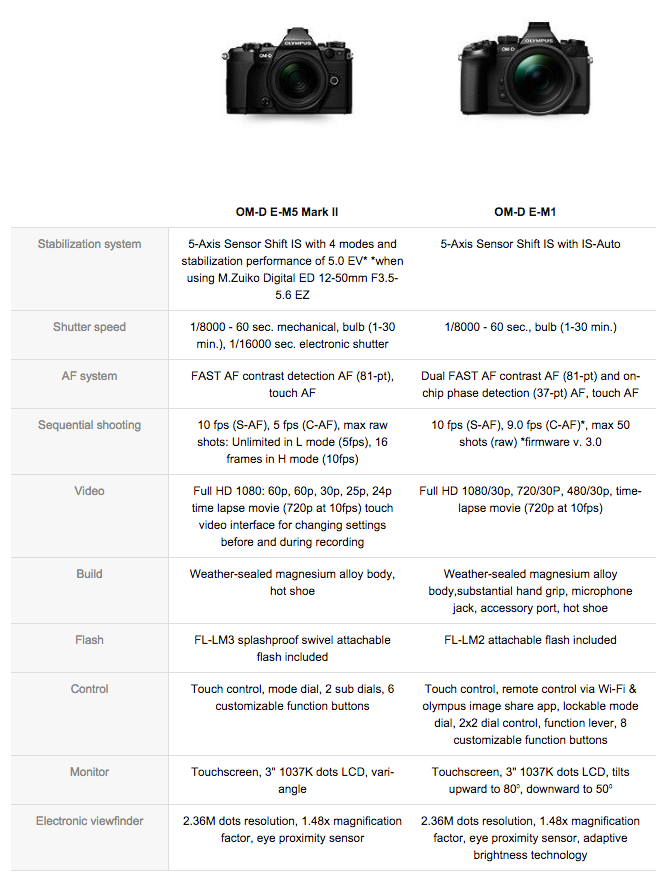 Unmentioned in the above chart for the EM5 II is that it does feature an articulating screen, WIFI and of course the 40MP sensor shift shooting. It also does bring a significant advantage for video with the improved IBIS and addition of 24, 25 and 60p shooting at 1080p. I seldom shoot video, so I'll let the folks at No Film School chime in on that one:
The original E-M5 was an interesting camera, and also featured 5-axis sensor stabilization (the Mark II is apparently even better), but it was limited to low bitrates and didn't offer 24p. That's no longer a problem, as Olympus has added 24, 25, 30, 50, and 60fps in 1080p
John Brawley, one of their featured authors touches on the improved image stabilization:
The IS comes in three flavors when shooting video. You can have it set to OFF, then mode 1 which is sensor shift and digital stabilizing, with some slight additional crop, but I never saw any when shooting video, and I'm struggling to see any IQ hit in video to be honest. Or if you wish there's also mode 2 which is sensor shift only with no digital stabilizing. In both mode 1 and 2 you can override the default focal length setting which if it's an Olympus lens is set automatically, and set your own focal length.
Like the EM1, the EM5 MkII also adds a mic input (in addition to the built-in mic), thus eliminating the need for Olympus's additional adapter that retails for $90.
EM5 vs EM5 MkII
The above charts already mention the differences, but in short, the EM5 II uses the same sensor, but the latest version (TruePic VII). The improved IBIS (4 stops vs 5 stops), more video features and a higher bitrate, WIFI, the improved LM3 flash and of course the 40MP sensor shift shooting. The original OMD EM5 can be found used for under $500 while the new EM5 MkII will ring in at $1100. One negative for current EM5 owners with the battery grip is that while the HLD-6 battery grip is compatible, you'll need a new HLD-8G hand grip to attach it to.
If money were no object, I'd say the EM5 MkII is the clear winner, that is… until the EM1 MkII comes out and we'll restart the discussion. 🙂
(Visited 5,520 times, 1 visits today)