We shared the leaked photos earlier on Twitter:
Leaked images of the Olympus 7-14mm & 8mm Fisheye f2.8 PRO, official announcement tomorrow h/t http://t.co/TQsrWKRG1h pic.twitter.com/O5TPA05K1F

— m43 Cameras (@m43Cameras) May 11, 2015
But now it's official as Olympus announces the 7-14mm f2.8 and 8mm Fisheye f1.8 PRO in their latest press release. Also announced is the Olympus OM-D EM-5 MkII Titanium edition, which be limited to 7000 in the world:
Olympus officially announced the OM-D EM-5 MkII Titanium ed., limited to 7000 in the world – do you want one? pic.twitter.com/ZYVzxkFEHw

— m43 Cameras (@m43Cameras) May 12, 2015
According to the press release (in Japanese), the Titanium color pays homage to the Olympus OM-3Ti released in 1994: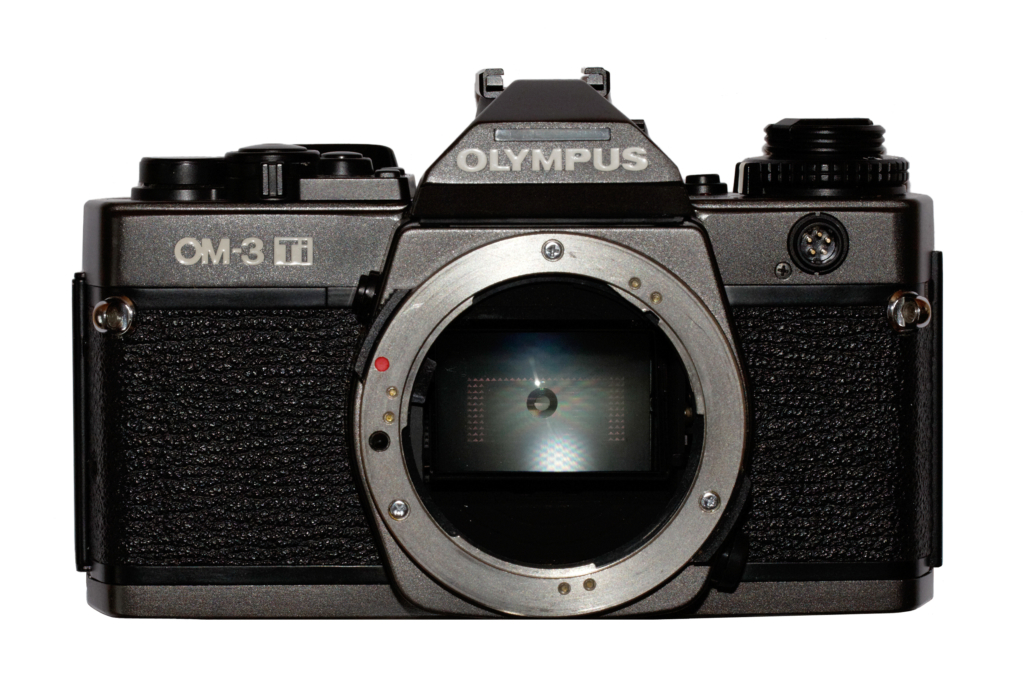 The limited edition kit will also feature a matching premium leather strap and a serialized owner's card with a leather case. Other than that, it shares the same specs as the OM-D EM-5 MkII. It's slated for release in June 2015 with an "open price." Though Amazon has it available for pre-order at $1199 ($100 above retail for the original EM-5 II) with a release date of August 1st, 2015.
Olympus 7-14mm f2.8 PRO
A welcome addition the Micro Four Thirds lineup, the Olympus 7-14mm f2.8 PRO will be available June 2015 with a retail price of $1299. In comparison, the current option at this focal length, the Panasonic 7-14mm f4 is a stop slower and is on Amazon for about $850 right now. It's slightly larger at 534g vs 300g on the Panasonic, but it is a stop faster and does have weather sealing. The minimum working distance is a mere 7.5cm vs 9.84 inches on the Panasonic. It also features a function button, reminiscent of the Olympus 12-50mm kit lens. It also comes with a lens hood, unlike most other Olympus lenses.
Olympus 8mm f1.8 PRO
The Olympus 8mm f1.8 PRO adds another option for Fisheyes which include the Panasonic 8mm f3.5 ($650), the Rokinon 7.5mm f3.5 ($250), and the Olympus 9mm f8 body cap lens ($90). The Olympus, also slated for a June 2015 release with a retail price of $999. It's by far the fastest option, about 2 stops faster than both the Panasonic and Rokinon. Here's what Olympus had to say:
Hobbyists, photo enthusiasts and professionals alike will be captivated by the M.ZUIKO DIGITAL ED 8mm f1.8 PRO Fisheye lens' 180-degree diagonal angle of view. Like the M.ZUIKO DIGITAL ED 7-14mm f2.8 PRO, this lens includes dustproof and splashproof construction, for unlimited wide-angle adventure. The lens is also compatible with a custom dome port for use with an Olympus underwater housing.

The M.ZUIKO DIGITAL ED 8mm f1.8 PRO Fisheye lens is constructed of 17 elements in 15 groups and can capture high resolution at the very edges of an image, even at the maximum aperture of f1.8. ZERO Coating minimizes optical flares and ghosting. The lens also comes with a fixed lens hood and a pinch-style lens cap LC-62.

Both of the lenses' compact size, brightness and weight reflect Olympus' mastery of precision engineering. When used in conjunction with core OM-D technologies, like 5-axis image stabilization, the M.ZUIKO DIGITAL ED 7-14mm f2.8 PRO and M.ZUIKO DIGITAL ED 8mm f1.8 PRO Fisheye open the user up to new possibilities for long exposure hand-held shooting.

Underwater Lens Port, PPO-EP02
The PPO-EP02 glass dome lens port is a great accessory to the M.ZUIKO DIGITAL 8mm f1.8 PRO Fisheye lens, enabling the user to capture the widest shot possible underwater with the OM-D E-M5 or OM-D E-M1 underwater housings. The PPO-EP02 is 15 percent smaller and 30 percent lighter than Olympus' previous lens port model, the PPO-E04, allowing for more compact and lightweight underwater shooting. Also, the hood section can be removed to reduce waves for over-under shots. (Rear Cover (PRPC-EP02) and Front Cover (PBC-EP02) are bundled).
Are you getting the Olympus 8mm f1.8 and 7-14mm f2.8 PRO? What do you think? Let me know in the comments below!
While the announced lenses don't really suit my style of photography, this is will certainly be attractive options to the many landscape, architectural, and other photographers out there. There's still two lenses that I would love to see released, a 135mm prime and a 24-105mm equivalent. With the 135mm, I don't think Olympus will do it, as they already have the 75mm f1.8 (=150mm) but I think Panasonic-Leica might have it on their roadmap. We already have a 15, 25, and 42.5 from them, a 67.5mm f1.4 or 1.8 seems like the next logical option. With the 24-105, Canon has the popular 24-105mm F4 L that's really sharp, I'd love to see something similar (or faster!) on µ43. It's perfect for video, and long enough for portraiture. A great all around lens. I know we have the Olympus 12-40mm f2.8 PRO, but LensTip.com didn't rate it very well, at least compared to the Panasonic 12-35mm f2.8 counterpart.
(Visited 41 times, 1 visits today)