Last week we talked about Scott Kelby's controversial comments on mirrorless cameras and even though he proclaims, "Mirrorless hasn't caught on in a big way," the numbers prove otherwise. DPReview published a report that:
CIPA reports that "Shipments of DSLRs in the twelve months to April 2015 fell 19% by volume and 9% by value, compared to the previous year, while mirrorless grew 36% by volume and 50% by value, over the same period."
The NPD Group reports similar numbers, "overall mirrorless camera revenue has grown 16.5% over the past 12 months, with DSLR sales declining approximately 15% over the same period.  During this time, Sony has experienced a robust 66% boost in their company's mirrorless camera sales, strengthening their dominant position as the #1 overall mirrorless brand, a position they have held for 4 consecutive years."
Basically, two separate reports show consistency with regards to the decline of DSLR sales and increase in mirrorless sales. And the industry is still in it's relative infancy, back when I started with the Panasonic GF1 in 2009 there were just a handful of native lenses and now there are 50+. Olympus didn't bring in the OM-D series until 2012, a series that caters to high-level amateurs and professionals. The first full frame mirrorless camera, the Sony A7, didn't drop until December 2013.
This is important to note because we're still in this period of educating the market. Most people believe that bigger cameras, produce better results. And while there might be some truth to that with regards to sensor size, there's certainly a point to where most consumers wouldn't be able to tell the difference.
Sales for mirrorless cameras have always been better internationally, many have argued that Americans have different buying habits than international consumers. I particularly like this quote from Michael Reichmann from Luminous Landscape who wrote on the Full Frame Myth:
What I find interesting, is that the latest statistics show that mirrorless systems are becoming very popular in Asia, followed by Europe. North America? Not so much. Indeed Americans and Canadians seem wedded to their large cameras and lenses in the same way as they are to their large vehicles.
Canon and Nikon also have an incredible presence in the United States. From sponsorships to the NFL, or with influential photographers like Scott Kelby. That has a trickle down effect. And when someone asks their photographer friend from camera advice, there's a good chance he has a Canon or Nikon right now. When you look at shelf space at big box stores like Best Buy, Walmart, Costco, Target, etc., it's dominated by Canon and Nikon, though Sony is starting to move in. Micro Four Thirds and Fuji tend to be found at specialty stores and online.
But I don't think that matters. Things are starting to change. We're moving to a different generation now, a generation that doesn't need to see and feel a camera, we base our decisions off of our peers and the reviews we read online. We don't need specialty camera stores. There's a reason Ritz Camera went bankrupt and boutique camera stores will struggle. Will some survive? Sure, much like some bookstores will survive. The point is, what we're seeing out of mirrorless, is just the beginning.
Let's take a look at how some of the biggest mirrorless camera companies are doing starting with the biggest, Sony:
Sony
Source: Consolidated Financial Results for the Fiscal Year Ended March 31, 2015.
Sony Imaging Products & Solutions (IP&S) includes compact digital cameras, interchangeable single-lens cameras, video cameras, broadcast and professional-use products. While sales were down, operating income was up:

Seeing a decrease in sales is surprising considering the cameras released in Sony's Fiscal 2015, which include the Sony A7II, A7S and Sony A6000. And the original A7 and A7R shipped December 2013 (Fiscal 2014), which means some sales should have trickled to Fiscal 2015. It will be interesting to see what happens in Fiscal 2016, considering the release of the popular A7R II and A7S II.
However, Sony did see a significant increase in operating income. The "increase was mainly due to reduction in selling, general and administrative expenses, the favorable impact of foreign exchange rates and the above-mentioned improvement in product mix reflecting a shift to high value-added models, partially offset by the above-mentioned decrease in sales of digital cameras and video cameras.
And it's also important to note that Sony dominates the sensor market, mostly due to the fact that the iPhone uses their sensor.
Olympus
Source: Olympus Annual Report 2015, for the fiscal year ending March 31, 2015.
In their annual report, Olympus noted that they are #2 in Japan with 25% of the mirrorless camera market, just behind Sony. However, sales have been down for five years in a row:
2014: 96,111 Millions of Yen
2015: 83,825 (12.8%) Decrease
They explain their loss:
The Imaging Business has recorded losses for five consecutive years, and we are still in the process of fundamentally resolving issues facing this business. There are clearly still areas requiring improvement, and we are restructuring this business to address these areas. Specific reforms planned include furthering the shift toward mirrorless cameras to boost profitability…. In fiscal 2016, rather than pursue sales expansion, we will cut back on fixed costs in order to realize a departure from the current state of unprofitability.
Though a decrease in sales might look discerning, remember that Olympus didn't introduce the OM-D line until 2012, and the only notable release from Olympus this fiscal year was the E-PL7. But it seems things are starting to turn around with their restructuring as Olympus did just post a quarterly profit thanks to the OM-D E-M5 II, and along with the E-M1o II we should continue to see a profit throughout 2016. We're still waiting for the E-M1 II, hopefully we'll see that refresh sooner than later…
Panasonic
Source: Panasonic Annual Report 2015, for the fiscal year ending March 31, 2015.
Narrowing imaging sales for Panasonic is a bit more difficult as they cover it under a broader umbrella, "AVC Networks." The four core businesses that make up this division are; Visual & Imaging Business, Mobility Business, Communications Business and Vertical Solutions Business. However, Panasonic did note that the restructuring of the digital cameras "returned to the black" (ie. turned a profit.). Sales were up slightly for 2015:
2014: 1152.5 billions of yen
2015: 1154.3
In 2015, the Visual & Imaging Business segment accounted for 267.3 billion yen. AVC Networks account for 14% of Panasonic's overall fiscal sales in 2015.
A minor increase is no surprise here as the Panasonic GH4 and GX7 were announced prior to the beginning of the 2015 fiscal year, and the new G7 and GX8 were released after. The most notable release within the 2015 fiscal year was the Panasonic GM5. While we likely won't see a Panasonic GH5 in the 2016 fiscal year (ending 3/2016), we should still see an increase in sales thanks to the G7 and GX8.
Fuji
Source: Fujifilm 2015 Annual Report for the Fiscal Year Ended March 31, 2015.
Fuji saw a great increase in profit in Fiscal 2015 and they plan to continue that trend to 2017. Here is there page on Imaging Solutions from their Annual Report: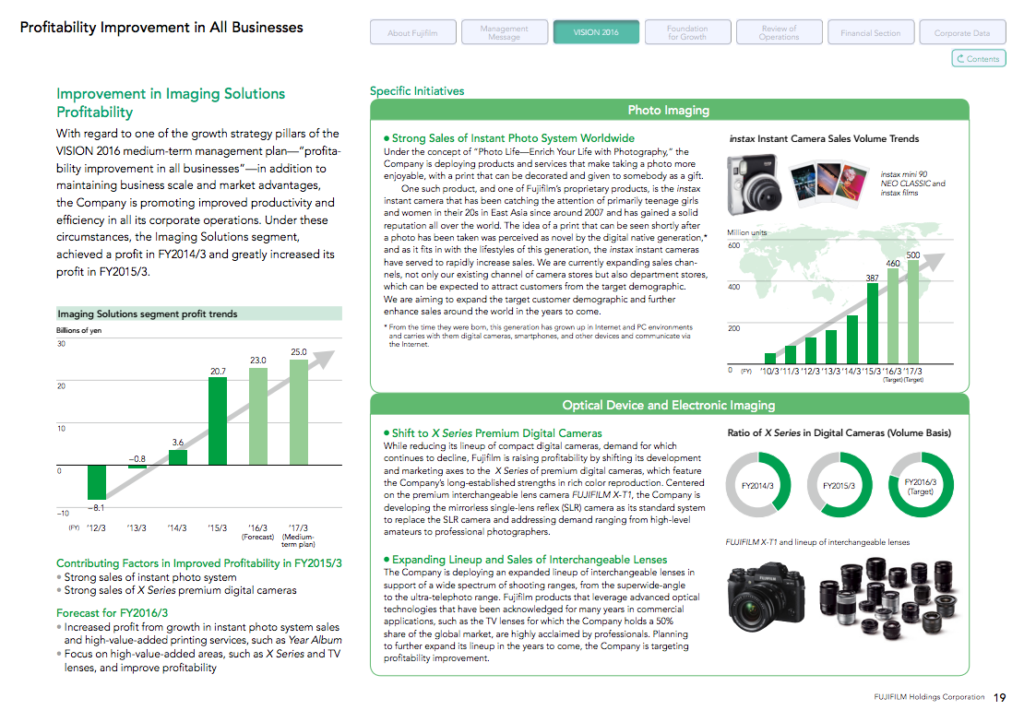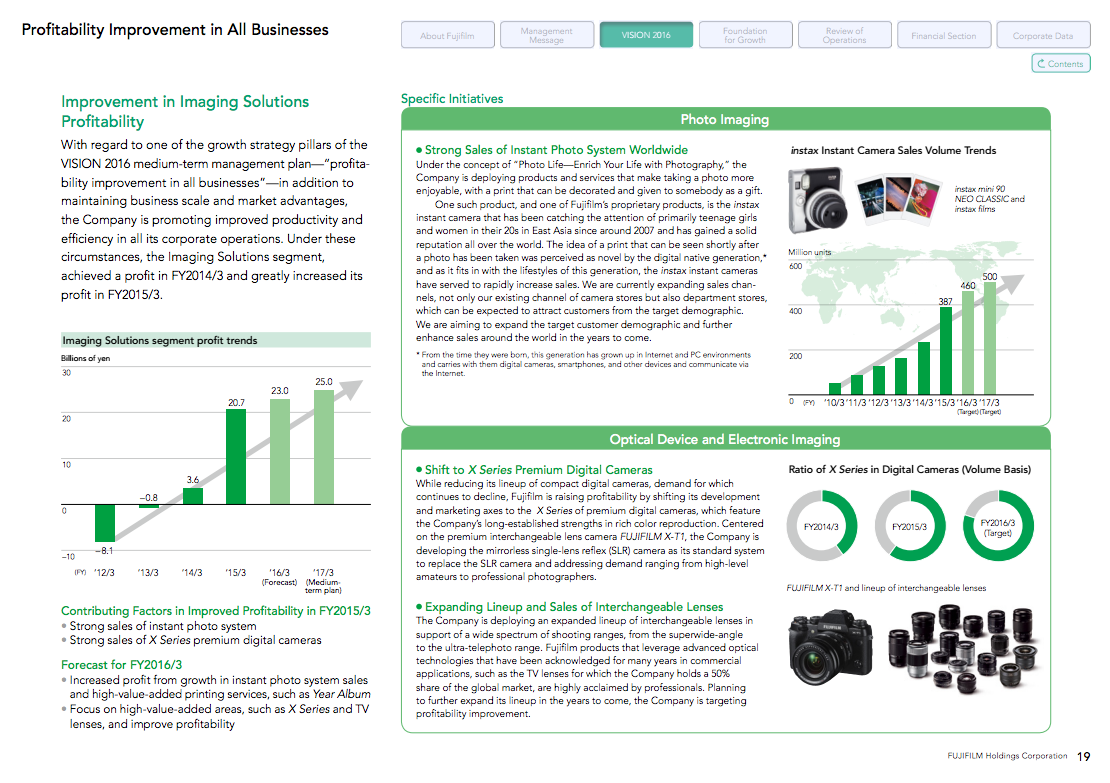 Fiscal 2015 was propelled by the release of their flagship camera, the XT-1. Thought they're not quite selling the volume compared to the aforementioned competitors, they are profitable which is very important in this tough industry.
What do you guys think will happen in fiscal 2016 and 2017? Let me know in the comments below!
(Visited 465 times, 1 visits today)