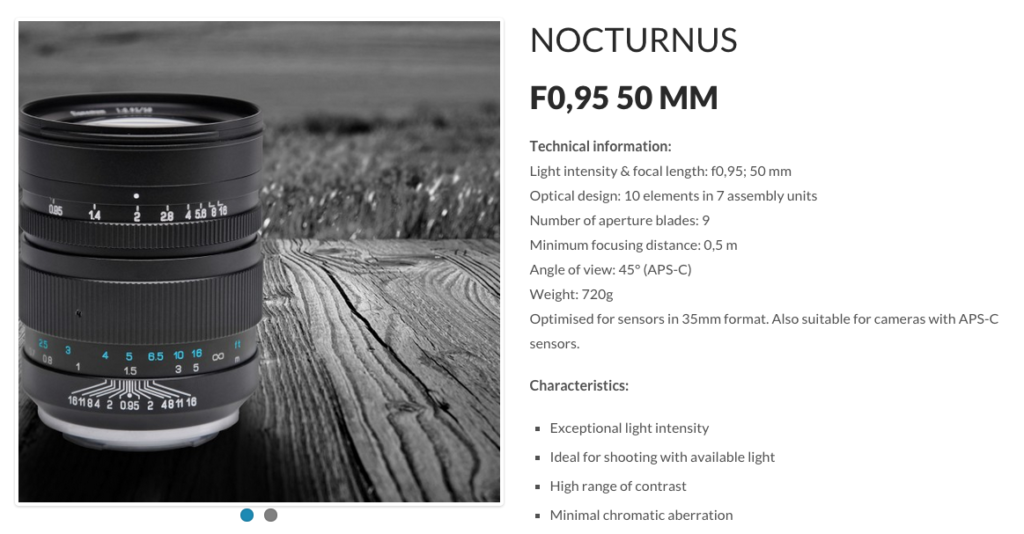 Who is Meyer Optik Görlitz?
According to their history page, Görlitz has been in business since 1896 providing affordable lenses, "In the 1930s… lenses were offered at somewhat lower prices than those of then-competitor Zeiss." We haven't heard much from them since then, thus it's no surprise that little is known about this company. Globell Deutschland acquired the rights to the name and rebranded as Meyer Optik Görlitz. In September 2014, they exhibited the new lenses at Photokina and began selling the lenses in December 2014.
Meyer Optik Görlitz currently manufacturers two lenses, with one more coming later this year:
But it appears that these aren't quite their optics, apparently they purchased the manufacturing rights so they can produce them out of Germany. Because with exception to the blue markings, the Nocturnus f0.95 35mm and 50mm are identical to the Mitakon f0.95 35mm and 50mm. This isn't quite atypical, as other popular companies operate in a similar fashion, eg. Cosina leases the rights to the name Voigtländer, Rokinon rebrands Samyang lenses, and even the relationship between Panasonic and Leica.
The interesting thing here though is that Mitakon is not quite known for it's optics. We've already covered that their Mitakon 42.5mm f1.2 is the poor mans Panasonic-Leica Noticron 42.5mm f1.2. And yet, the Nocturnus lenses are commanding a exponentially higher sticker price vs the identical Mitakon counterparts. For example, Mitakon has their 35mm f0.95 for $720 and the Nocturnus is listed at about $2100 USD.
Is the "Made in Germany" tag worth that much? You decide.
Here's what they have to say about their quality:
We procure the components for our lenses fairly, both in Germany and worldwide. This enables us to offer the best technology at reasonable prices. Meyer-Optik-Görlitz lenses are assembled in Germany, but above all they are tested, measured and finely adjusted in Germany. For this reason, every lens deserves the Made in Germany seal of approval and quality guarantee after undergoing tough testing. Each lens leaves our factory with an individual testing certificate and a five-year guarantee.
Again, identical products under different names isn't atypical. I remember my Panasonic LX3 was virtually identical to the Leica D-LUX 4 and the Leica sported a slightly higher price tag. But for a company that's only been selling lenses for a little over 3 months, I don't think Meyer Optik Görlitz commands the same brand power as Leica, a company renowned for it's optics for over a century.
It should also be noted that it doesn't look like Meyer Optik Görlitz produces any unique lenses (correct me in the comments if I'm wrong). As Nikon Rumors reported last month, Meyer Optik Görlitz also produces two Nikon lenses identical to lenses offered by Samyang and Helios.
At their price, you'd be much better off with the Nokton 25mm f0.95 at about $700 used instead of the 30mm. If you don't need the speed, Panasonic recently announced the 30mm f2.8 Macro and 42.5mm f1.7. And of course there's plenty more options around 50mm, we've reviewed a myriad of portrait lenses around that focal length. Atop that list, and the list of the sharpest lenses for Micro Four Thirds, is the Leica Nocticron 42.5mm f1.2, which would not only be cheaper (though still at ~$1400) but you'll also retain autofocus at such a shallow depth of field.
What do you guys think of the Meyer Optik Görlitz Lenses for Micro Four Thirds? Let me know in the comments below!
(Visited 185 times, 1 visits today)