Last week we detailed Panasonic's new patent that shows that they could be competing with Lytro, and today Lytro releases details of its second coming – the Lytro Illum.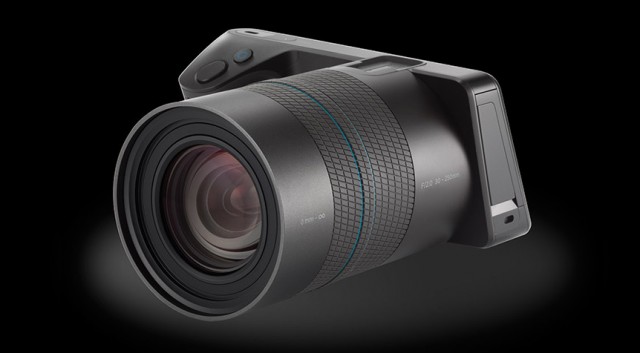 Here's the Lytro Illum gallery, where you can interact and refocus photos. Pre-orders start today at $1500, with a 20% discount to first gen owners. Shipping begins in July.
How does the Lytro Illum compare to a traditional camera?
Recall that Lightfield Cameras use "Megarays" instead of "Megapixels." The Illum shoots at 40 Megarays, which equates to about 4-5 megapixels once flattened out. An improvement over the first generation, which was a shade over one megapixel.
The illum will sport a 1″ sensor, about 3 times bigger than a modern smartphones sensor (eg. iPhone 5s) and a little smaller than the Micro Four Thirds system.
At a retail price of $1600, it comes packaged with a F/2.0 30-255 lens. A lens that The Verge reports "has very little glass, and none of the complicated, expensive aspherical elements that traditional cameras require to reflect light onto the sensor." And a minimal focus distance is non-existent, as you could focus on a subject so close that it touches the glass. On paper, this would come close to the pricing range of a Panasonic GX7 with the F2.8 28-100mm lens, but it's important to note that:

While the Illum has a lens that's fast throughout, and can cover a wide focal range, it still takes a second or two to process the image.
Ren Ng (Founder of Lytro) admits in his interview with The Verge that "You can make cheaper lenses if you want, you can make lower-quality lenses acceptable, and you can build new lenses that have higher performance than you've ever seen before." The Verge article summarizes that they're out to build a hardware company – not a camera company.

After having a look at the Illum gallery, the sample images are beautiful – but soft. Because you don't have the option of focusing beforehand (the beauty and curse of Lytro), "sharp as a tack" images don't exist – yet. But according to Lytro, that isn't the point. You don't have to limit yourself to a single plane, instead using the system to tell a story.
Should you buy a Lytro Illum or a more traditional camera?
I was entranced with the news of the Lytro's first generation camera. But like the release of it's predecessor – there's a lot of hype around the launch. And ultimately, I don't think they'll reach a lot of buyers. As I detailed last week, Lytro is in a tough space. And they know it. They even acknowledge that they're catering to a niche market right now. And CEO Jason Rosenthal shares his thoughts on becoming more than just a camera company:
"If you look at a big-budget Hollywood production today, they'll spend between 9 and 14 million dollars on just incremental hardware to shoot 3D, because you need multiple rigs. We can do all that in single-lens, single-sensor — that's a big deal… You look at the credits at the end of a movie and you see Camera Assistant 1, Camera Assistant 2, Camera Assistant 3… they're doing focus pulls on set. If you can make that an after-the-fact decision, that's a pretty big deal."
Read the rest of the interview on The Verge.
If you bring up the topic of Lytro around photographers, you'll hear a lot of negativity. People hate change. But just like digital replaced film, much to the chagrin of film photographers. And even as mirrorless cameras gain share against it's DSLR counterparts. Bear in mind that this is merely Lytro's 2nd generation camera – think of the possibilities 5-10 years from now.
(Visited 31 times, 1 visits today)