Last month we had some pretty big news featuring the first ever Canon EF to Micro Four Thirds adapter with Auto Focus, well today things just got a little more interesting. Japanese blog, Egami, found that Canon patented a new lens that covers the 4/3″ sensor (which obviously would not cover an APS-C or FF sensor):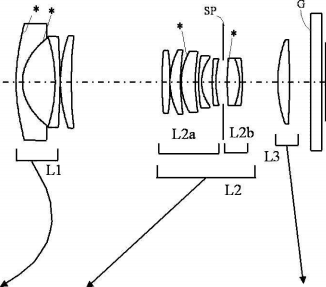 The patent features a 12-35mm F2-3.5 lens, which would be 24-70mm on Micro Four Thirds, a familiar focal length as Canon's 24-70mm f2.8 is one of the most popular Canon lenses. Now a patent doesn't necessarily mean that this will come to fruition, but it certainly is interesting.
Even more impressive is that it could be smaller than the already compact Panasonic 12-35mm f2.8, which has 14 lens elements in 9 groups. and if I'm reading the translation right, the Canon patent specifies 11 lens elements in 9 groups. Impressive for a lens featuring a maximum aperture of F2.
The translated article does mention the Canon G1X II, there new high-end compact featuring a 1.5″ sensor. But again, that's larger than the µ43 sensor, and that isn't an interchangeable lens camera. I do know the GH2 used an oversized sensor though.
Is the Canon EOS-M line is struggling?
Canon's launch into the mirrorless market wasn't a very successful one, and with a lack of native lenses and demand, the EOS-M 3 is now only being sold in Asia and Europe with no plans for a release in North America. If they do decide to kill off the line, they could push current EOS-M owners and fans towards another mirrorless option. µ43 is an open format and cannot be patented, so that option is there and also the likely reason we haven't seen any patents for Canon µ43 bodies.
I'm not going to pretend that I understand the logistics of manufacturing lenses, but I do know that they'd be marketing to a passionate and growing group of photographers shooting on the Micro Four Thirds format. And I'd love to see some of the prestigious Canon L lenses native on Micro Four Thirds! People are already doing it, with the new Canon EF to µ43 AF adapter. And even adapting old legacy lenses from the Canon FD line to µ43. So Canon, why not?
(Visited 79 times, 1 visits today)