We talked about the upcoming firmware updates for Olympus and Panasonic when they were announced back in September, and now the wait is over.
The Olympus OM-D E-M1 will be updated to 4.0 and the E-M5 II will be updated to 2.0. The firmware updates are available on the official Olympus website. The new features are listed below on this Olympus comparison table: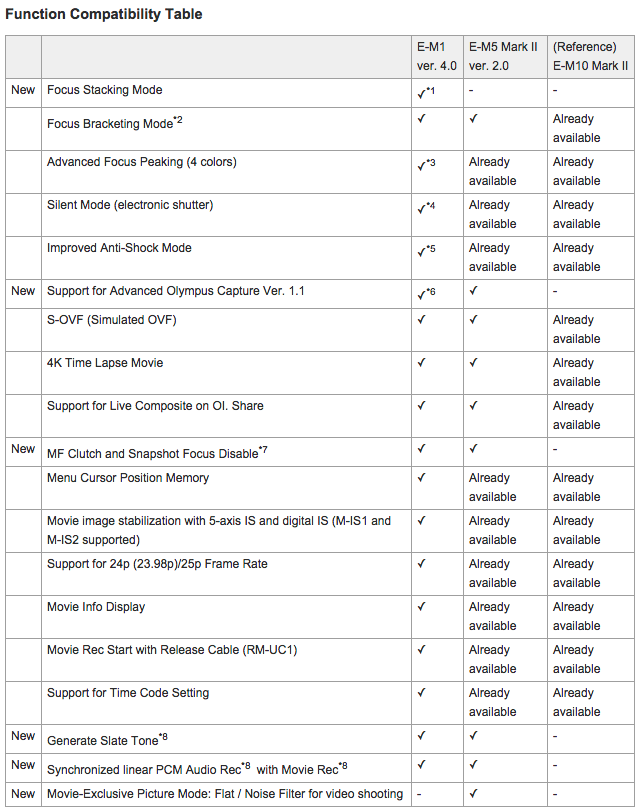 Focus bracketing (and stacking for the E-M1) has been a long awaited feature and Olympus has a guide that can help you get started with Utilizing Focus Bracketing and Stacking in Insect Photography.
Panasonic also released a firmware update for the Panasonic G7, GX8 and FZ330. The "Post Focus" update brings Lytro-like abilities to Micro Four Thirds. For those unfamiliar, Lytro is a "light field" camera system that allows you to choose focus after the photo has been taken. Though Lytro's biggest knock was the low resolution. We knew Panasonic might enter this area, we spotted the Panasonic patent for Lytro-like technology over a year ago. Though Panasonic differentiates from Lytro by taking a 4k video while shifting focus throughout the frame. This allows a much higher resolution than the Lytro. For more information, and to download the firmware update please visit the news release from Panasonic. Panasonic has a demo in the release, and DPReview released a sample recently as well.
(Visited 106 times, 1 visits today)