You know what sucks? The most well known photographers often have the worst advice for marketing your photography business.
Think about that. The most talented photographers, the ones that we look up to for creative inspiration, advice, or otherwise, often have the worst advice for marketing your photography business.
I'm not going to throw any names out there, but I will say it's an older generation. The same generation that dominate the best sellers list for photography books. The same generation that run the biggest photography websites. The same generation that told you not to advertise on Instagram because they compress images to less than 1MP. Granted, there are exceptions but I feel that's a good portion of the market.
Instagram grew exponentially in the last few years, Facebook and Twitter over the last decade. A lot of popular photographers made their names in photography before these platforms. Thus a lot of their advice is to network… and I'm sure that works but over this past generation we've had an invention called the internet that I think works a little better.
I remember one of my favorite photographers said that one of his big breaks was when he shot a kids soccer game, and the mother loved the photos so much that she shared them within her network and it snowballed into more gigs. And, I remember hearing this and thinking, "Wow, that's an amazing idea!" But I tried it, and I didn't have the same success.
Look, I never claimed to be a great photographer… that could play into factor. Here's my headshot/portrait portfolio for context.
Regardless, I do know a little about marketing your photography business without having to go through your network. And I can show you a lot of these tactics, most of which are completely free.
Most of your leads shouldn't come through your network or referrals
I'd say that if most of your leads are coming through your network or referrals you're probably doing a bad job at marketing. And yet, how many times have you been told that's the best way to go?
I get it. It's an easy thing to say. And it's much harder to teach someone how to build a successful marketing campaign on Facebook, Google, etc.
Just a quick Google search for "Photographer marketing" shows an article by Improve Photography as the #1 result, with 12 Creative Marketing Ideas for Professional Photographers. Most of the advice given isn't repeatable, isn't scalable, and really just isn't that effective. Let's cover the points in bold, and my response will follow.
Design Custom Cards/Invitations – They recommend designing wedding announcements and Christmas cards, and it's really no different than smacking a signature on all your photos. Senior photos, on the other hand, can be effective if you can get a mailing list for upcoming High School seniors (which is tough to do). Though most of them will be thrown away, mailers aren't very expensive and combined with a SEM campaign, it can be pretty effective.
Shoot for Charity – If it's a charity you are passionate about, that's great… but I wouldn't expect to generate a lot of work shooting for charity. And remember that all non-profits are not created equal, the NFL for example is a non-profit. Charity or otherwise, you'll come across a lot of people who want you to shoot "for exposure." Don't fall for it. These types of gigs don't snowball into other gigs. And besides, a paid gig is just as likely to refer a client as a free one. Even better actually, because prospective clients that know you shoot for free often devalue your work and perhaps you to shoot for free or at a discount.
The Wedding Guide – They advise that you should create one of those email popovers that ask for your email address in exchange for a guide on, "15 Little Known Wedding Tips for Getting Married." The irony though, is that they don't do it themselves on their website. Seriously though, this tactic is effective for blogs… not so much for a local photographers.
Women Only – This advice is for female photographers, they advise you to join mom groups. This could work, but follow the rules of the group. On Facebook or otherwise, people don't exactly want to see advertisements for services.
Photos for Posts – They suggest that you should offer a print in exchange for a testimonial on a blog post. This is a good idea, though I'd recommend asking for a review on Google, Yelp, etc.
Remember the Little Things – They advise that you make a note of your clients birthdays or anniversary's, then mailing them a hand written note with a coupon for 15% off their next shoot. I think this old school technique isn't worth your time… there are much more effective ways to remind clients of your services.
Go Old School – They recommend setting up at an exhibit at bridal expos. Buying space is usually expensive, so this is probably best for high-end photographers with a rate that matches.
Decorate an Office – You think decorating an office with your prints will drum up much business? People may comment on the beautiful photograph, but I don't think I've ever looked at a photo on the wall of a office or a Chipotle and wondered who the photographer was.
Stamp Your Prints – Buy a custom stamp that stamps your prints with "15% off your next shoot." Meh, maybe for Senior Photos… doubt it's effective for anything else.
Hold a "No Blinking" Promotion – Really? If your client doesn't blink throughout the entire shoot offer them a print? I'd say that if you don't catch your clients blinking at least once you're probably doing something wrong.
Give It Away – The photographer offered a free session to a charity auction. Yet another tactic that relies on networking, to me it's more effective to spend $20 on Google and get a lead or two that way.
This one is up to you – Tricked us, this one he just asked readers because he was out of good ideas.
That article feels really dated, I'm surprised to see that it was written in 2013. Think about it. You can spend days implementing all of the above and throughout the year you might generate a couple leads. You spend $100 on much more modern tactics and you can generate leads immediately. And this isn't meant to be the be-all end-all guide to starting a photography business. This is simply 9 effective ways to market your photography business for under $100, let's start with the infographic and I'll go into a little more detail below: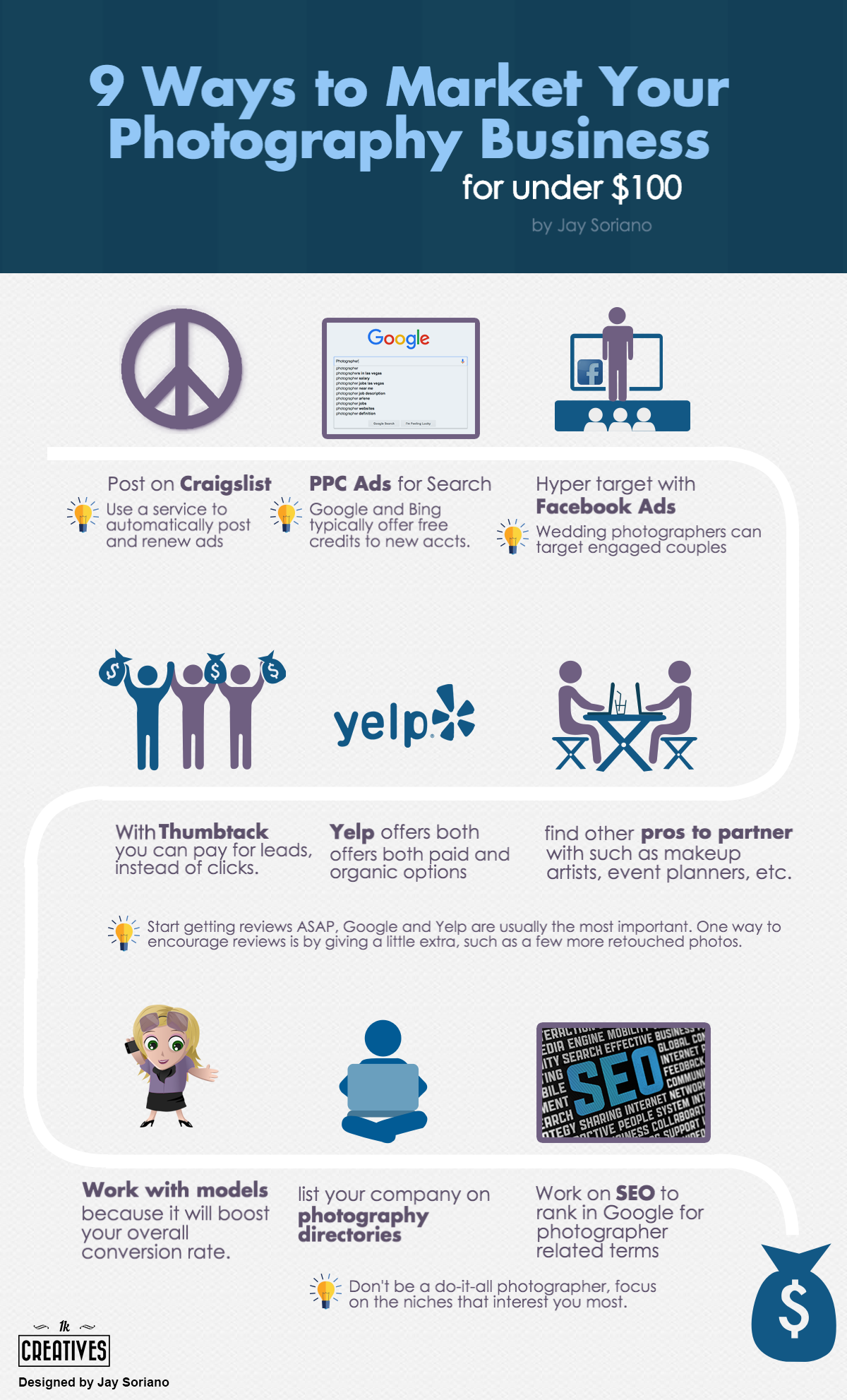 Post on Craigslist – With Craigslist, you reach a different market. Unfortunately, that market tends to be on a budget. But it's free to advertise and you can reach people that you wouldn't have otherwise reached. I use it to post a deal for slower days, Sunday-Thursday. And you can use a service like FancyHands and you can setup a recurring task to post an ad on intervals you choose.
PPC Ads – Google and Bing typically offer free money for new advertisers, which is definitely something you should take advantage of. The biggest mistake people make with AdWords is using the default "broad match" keywords, which helps Google generate more money, but it isn't helpful for you. Use "Exact" or "Phrase Match" keywords and target niches that you specialize in (eg. Headshots, newborn, weddings, etc.)
Facebook Ads – I'd really just recommend this to wedding photographers, as you can target engaged couples on Facebook. You can also combine with household income and of course gender. Thus, if you're a high-end wedding photographer, it's easy to target wealthy brides-to-be within a 25 mile radius.
Thumbtack – Free to register, this one is a no-brainer. Unlike AdWords where you Pay-Per-Click, with Thumbtack you're essentially paying for leads. But you have to be quick because customers who request a quote are capped at five proposals.
Yelp – Another no-brainer as it's free, good reviews can help you reach another audience. I'm bearish on Yelp ads though.
Partner with Pros – If you want to shoot weddings or events, it might make sense to partner with a wedding and event planner.
Work with models – I've had customers tell me that they chose me because they thought that's who good looking people go to. Having models will boost your conversion rate for prospecting customers. I don't really like shooting for free (TFP), but it's often necessary for new photographers.
Photographer Directories – There are good paid ones like WeddingWire, and free ones like Headshot Crew. Other than helping you get a few leads, they're also beneficial for SEO.
SEO – This is probably the best way to generate leads, but it's going to be the most difficult. It's free if you want to do-it-yourself, but will require a significant time investment. Creating content (like this) takes a lot of time, but it pays off in the future.
And there you have it, 9 Non BS ways to market your photography business. I didn't go into too much detail, as there are a lot of good individual resources on AdWords, Facebook ads, SEO, etc. But I do plan to write in-depth guides specific to photographers in the future. Subscribe if you're interested.
What are your favorite photography marketing tactics? Let me know in the comments below!
(Visited 161 times, 1 visits today)