Some people *need* to have certain features when buying a camera. Outdoor photographers need a live viewfinder; studio photographers must have a hot shoe. And of course there are many photographers who absolutely must have an articulating screen for their selfie endeavors. With the recent announcement of the Olympus EPL-7, many photographers are wondering what other mirrorless cameras offer a articulating or flip-up screen. Since this website primarily focuses on Micro Four Thirds, we'll save the best for last and start with other mirrorless cameras first 🙂
With mirrorless cameras, there's a little give and take because in order to keep the body as small as possible we'll have to give up a few features.
Samsung NX Mini: While it's definitely an attractive size and does offer interchangeable lenses, keep in mind that it's a smaller 1" CMOS sensor and thus it's difficult to achieve the background blur that so many of us yearn for. Especially with the two native lenses it currently offers on the NX-M mount system, though it does include an adapter to attach your other NX lenses.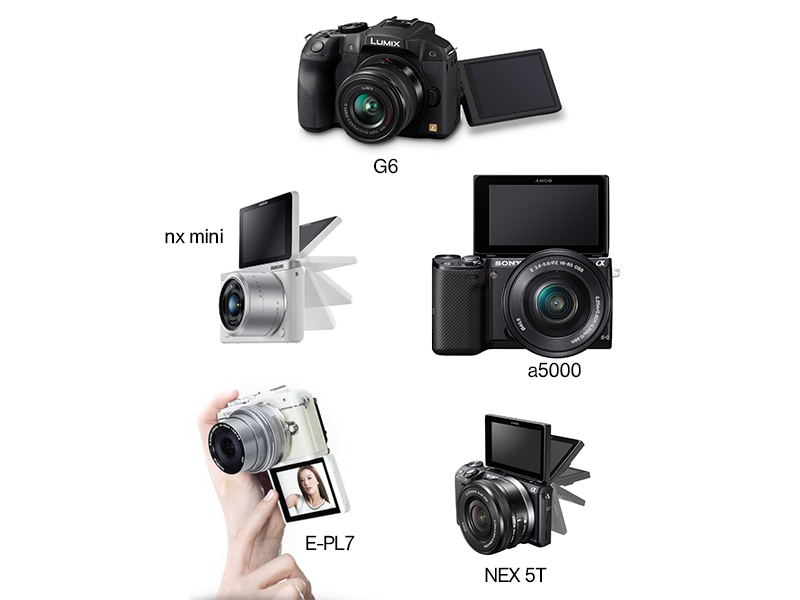 Sony NEX-5T: I remember when I first saw this camera on a store display. It was almost love at first sight. If the NEX-5T had a hot shoe and smaller lenses I may have considered switching to the NEX system.
Sony Alpha a5000: The a5000 is very similar in nature to the NEX-5T. Supposedly, it's positioned between the NEX-3 and NEX-5, thus the 5 should have an advantage in some areas. This thread on DPReview can help you identify the differences.
Panasonic G6: The Panasonic G1 was the first Micro Four Thirds camera with a articulating screen, and that trend has continued the Panasonic G6. Though if you're considering this camera, it's definitely the largest of the bunch.
Olympus Pen E-PL7: And last but not least, the recently announced E-PL7. If it weren't for the impending announcement of the Panasonic GM5/GM2, I probably would have already bought this. It has the hot shoe required for my flashes, and an articulating screen for easy photos with the wife. Unless the GM5/GM2 bundles at least the hot shoe and live viewfinder, whilst keeping the overall size similar to the GM1 – I'll likely make the transition.
Don't quite need the articulating or flip-up screen? Here are a few mirrorless cameras that offer tilt screens: Olympus OM-D EM1, EM5 and EM10. And many of Sony's offerings include a tilt screen, including the a6000, and the full frame A7 series.
(Visited 2,064 times, 1 visits today)