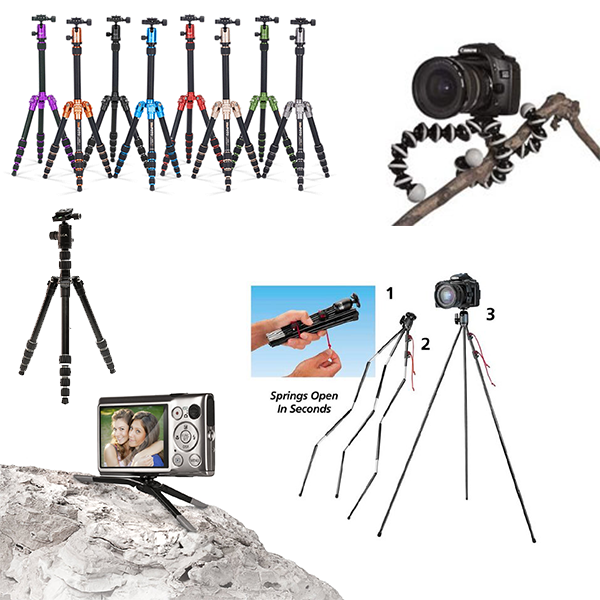 With a smaller system, it only makes sense to have a smaller and lighter tripod. But with that being said, you also want a tripod that's secure enough for your equipment… because there's certainly a difference between a $100 point and shoot versus a high-end micro four thirds camera and lens. Today, we're reviewing the top 5 tripods for micro four thirds cameras, and what situation each tripod is ideal for. A few of the tripods on this list are distinctly different, and I actually own 4 of the 5. Some you can throw in your pocket, some are perfect for attaching to a photography backpack and all are equally useful in their own right. Without further ado, here are the 5 best tripods for the m43 system:
5. MeFoto Travel Tripod – Let's start with the only tripod on this list I don't own… but it's highly regarded within the m4/3 community. I admit, it's sexy. But at double the price of the #1 pick with a little less range when fully extended, it was close but I opted for the #1 pick below.
4. The Zipshot – This is a cool lightweight tripod that goes from folded up, to standing on three legs and ready to shoot in a matter of seconds. It's lightweight, and easily attaches to a backpack. When you bust it out, people notice. They have two versions: one that is 9" folded and 28" standing, and a longer version that is 15" folded and 44" standing. I have the ladder, in retrospect I would probably would have opted for the smaller version.
3. GorillaPod – GorillaPod is a brand, and within that there are a myriad of different tripods that might fit your needs (Note: There are GorillaPod knockoffs sold at Target and Walmart which have horrible reviews, buyer beware). Personally, I use the GorillaPod GP1 because it's the smallest and lightest, but it's important to note that my smallest and most common combo (GM1 w/ 20mm F1.7) outweighs the recommended weight that they outline. However, I have tested the heavier GX1 w/ 20mm on the GorillaPod for a long period of time on the table, as well as wrapped around a bar and it had zero issues holding the camera still when held upright. With heavier lenses, I would proceed with caution if you plan on wrapping it around anything. I opted for the GorillaPod GP1 because of the smaller size, though they do make a model specific for mirrorless cameras, as well as DSLRs. Let's take a look at the comparison chart (note: it's a screenshot, working links available on product page):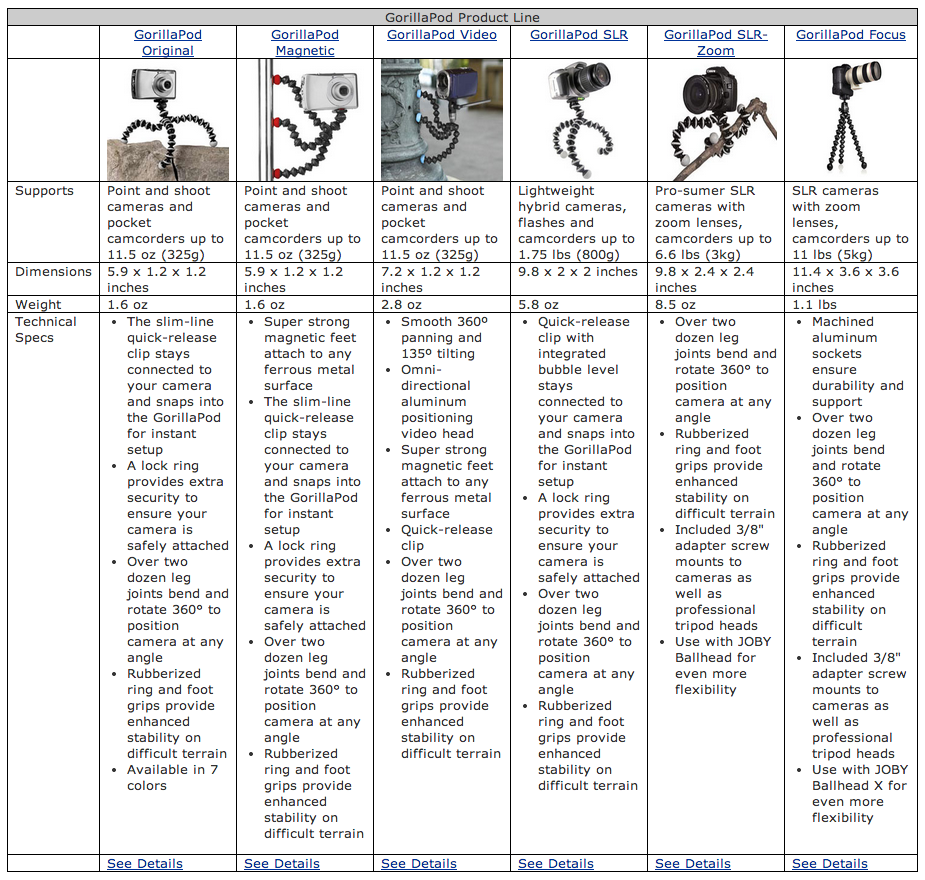 2. Joby GorillaPod Micro  – While GorillaPod is known for their versatile wrap around tripods, recently they released a slim profile tripod perfect for mirrorless cameras. I consider this a must have tripod for every m43 owner, folded up and you barely know it's there. My only caveat is that it sticks out slightly on the GX1 and GM1, for larger bodies it may fit flush.
1. Dolica Ultra Compact Tripod – I usually go with the smallest tripod as it's the most convenient. But they're limited. With a GorillaPod you'll have to find something to wrap it around. With the Micropod, you'll have to find a surface that's the ideal height for the shot you want to get. The Zipshot is nice, but depending on which version you owned it stood at 28", or 44" – there is no in between.
For me, the Dolica is the perfect tripod for micro four thirds cameras. It's sturdy enough to prevent a swift wind from knocking it over, yet convenient enough to throw in a backpack as it can fold down to 12.5". And you have a little more range than the Zipshot as it stands at 57". If you're shooting portraiture, you'll probably want something a little longer to shoot eye level with your subjects, but that's a different topic. We're talking about the best lightweight tripods, and for something that folds down to the size of a (1ft) ruler is pretty impressive.
What do you guys think are the best lightweight tripods for Micro Four Thirds cameras? 
(Visited 5,292 times, 1 visits today)