Updated 2/05/15: Another announcement from Olympus, the "Olympus Air" from the Open Platform Camera project which we talked about below. Much like Sony's QX series, the idea is that you attach it to your smartphone. The Olympus Air is set for release on March 6, 2015, though only on their Olympus Online Store (Japan).
As we previously reported, the "body" if you will does have a m43 mount, it's price at release is 33,800 yen – or about $288 USD. Bundled with the 14-42mm F3.5-5.6 it's priced at 49,800 yen, or about $424 USD.
Cool idea, but a very niche product. And of course this announcement is overshadowed by their concurrent announcement of the OMD EM5 MkII.
—
Sony popularized it's lens camera that you could attach to smartphones, but Olympus is taking it to the next level with the Open Platform Format (OPC), compatible with Micro Four Thirds lenses.
Information and photos from Olympus: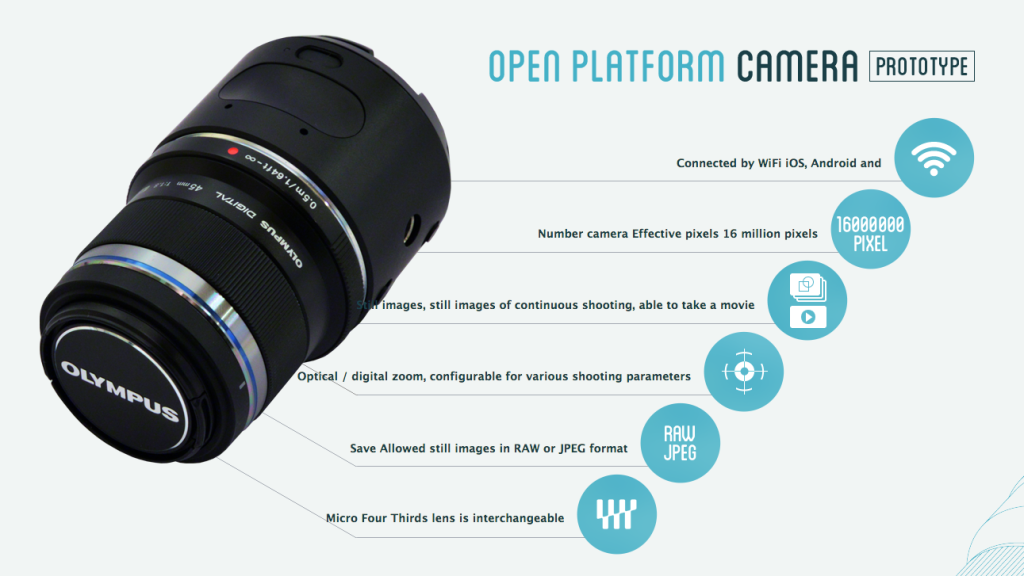 The above is translated from Japanese, but it looks like we're looking at:
16MP Micro Four Thirds sensor.
Connected by WiFi, compatible with Android and iOS.
RAW/JPEG, continuous shooting and movie mode.
It's also "configurable for various shooting parameters," what the options are could be interesting.
Seeing as how the image above shows the Olympus 45mm f1.8, it looks like the base pictured above it is the 16MP OPC, which features a Micro Four Thirds lens mount thus allowing the use for any µ43 lens. Their diagram confirms this: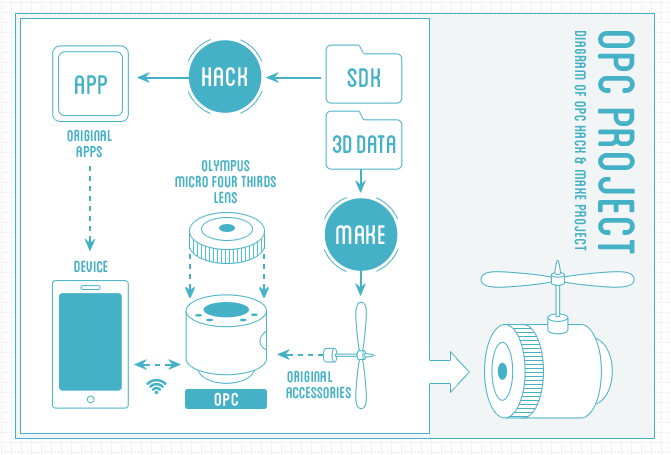 The OPC features a accessory port where you can attach the rotor blades, and perhaps it opens up the opportunity for future unique accessories.
I don't about you guys, but I'd be a little nervous flying expensive lenses in the air, but the $100 wide angle 9mm Olympus Lens Cap lens I could handle. That's an inexpensive combo that could make for some unique photos. Regardless, details are still sparse as the OPC lens drone project is still in a closed beta, though you could view project reports here. There's no timeline for it's release, as the Olympus website specifies testing for the next few months.
Personally, I don't get it. It looks like they have a lot of ideas with the accessory port (and even more from the Engadget event), but the OPC is still pretty big size wise, we could argue that the Panasonic GM series is more pocketable. Sure it can't fly but there's plenty of native drone copters with cameras starting at $100 and they're probably a little more durable than µ43 lenses that weren't made to fly.
I don't know. What do you guys think of the 16MP Olympus Lens Drone OPC Project? Tell me in the comments below.
(Visited 132 times, 1 visits today)